The Phi Beta Delta Honor Society for International Scholars is pleased to share that the Spring 2018 Annual Conference will be offered for free via an online platform for full chapter/membership participation on Friday, June 15th, 2018. Details will be posted on the Phi Beta Delta website shortly.
A save-the-date is coming soon for the Spring 2019 Annual Conference. This conference is slated to be held in or near Washington, D.C.
On February 25th, the Delta Sigma Chapter of Phi Beta Delta at Mount Ida College welcomed new members during a ceremony celebrating six different honor societies. Provost Ronald Akie offered introductory remarks, followed by a welcome from President Barry Brown. Inductees and guests were then treated to a dessert reception to celebrate all the honorees recognition as the scholars of Mount Ida College in 2018.
Zeta Gamma Chapter Board Activities
The Zeta Gamma Chapter Executive Board has met several times over the past academic year. Our goals have been to increase membership and increase our funds for student scholarships. We held two restaurant fundraisers this year. One was at a local Middle Eastern restaurant and the other was at a Chipotle.
Officers 2017-2018
President: Eric Zeemering
President Elect: Jessamine Cooke-Plagwitz
Past President: Trude Jacobsen
Student Vice Presidents: Erica Ceka and Naif Jabli
Treasurer: Tim Condon
Secretary and Chapter Coordinator: Sarah Lindell
Fall 2017 Induction Ceremony and Reception
Our chapter hosted our annual induction ceremony and reception on November 16, 2017. Dr. Reed Scherer was presented with an honorary membership. Dr. Scherer gave a fascinating presentation on his research in Antarctica. Two faculty, one staff member, and 14 students were inducted as new members. 37 members renewed their membership.
Chapter President Dr. Eric Zeemering and Dr. Reed Scherer: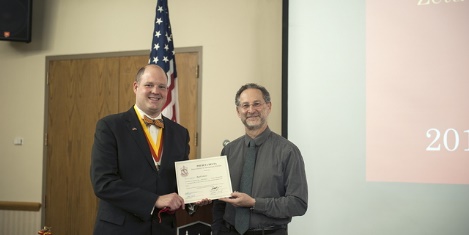 Current members of Zeta Gamma Chapter: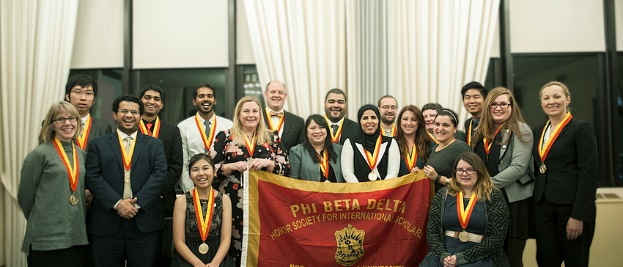 Fall 2017 Cosponsored Lecture
The Zeta Gamma Chapter cosponsored a lecture for Mr. Louis Piet, Consul General for the Kingdom of the Netherlands in Chicago. Mr. Piet presented a well-attended lecture titled, "The Dutch Approach to Sustainable Water Management; History, Current Practice and International Context."
Dr. Scot Schraufnagel, Political Science Department Chair, Mr. Louis Piet, Consul General for the Kingdom of the Netherlands in Chicago, and Dr. Eric Zeemering, Chapter President: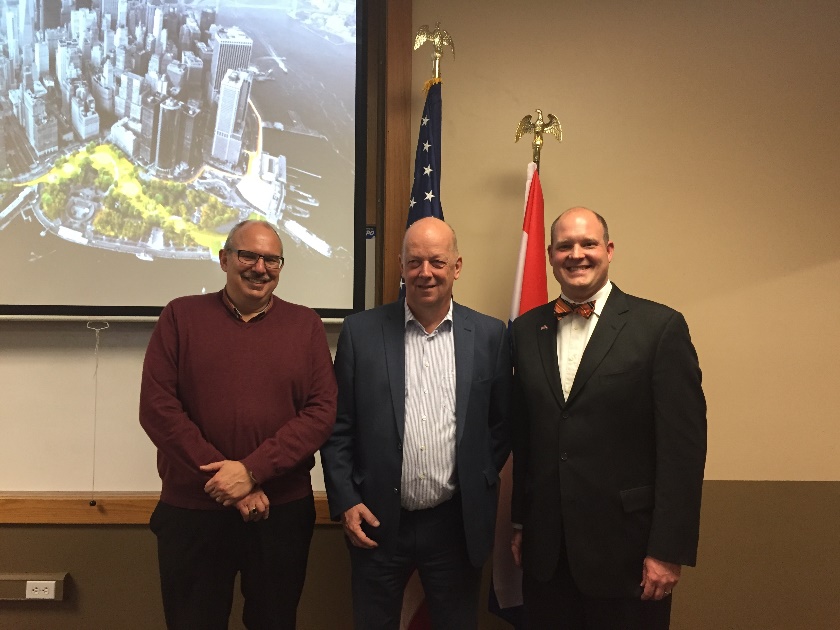 Spring 2018 International Women's Day Event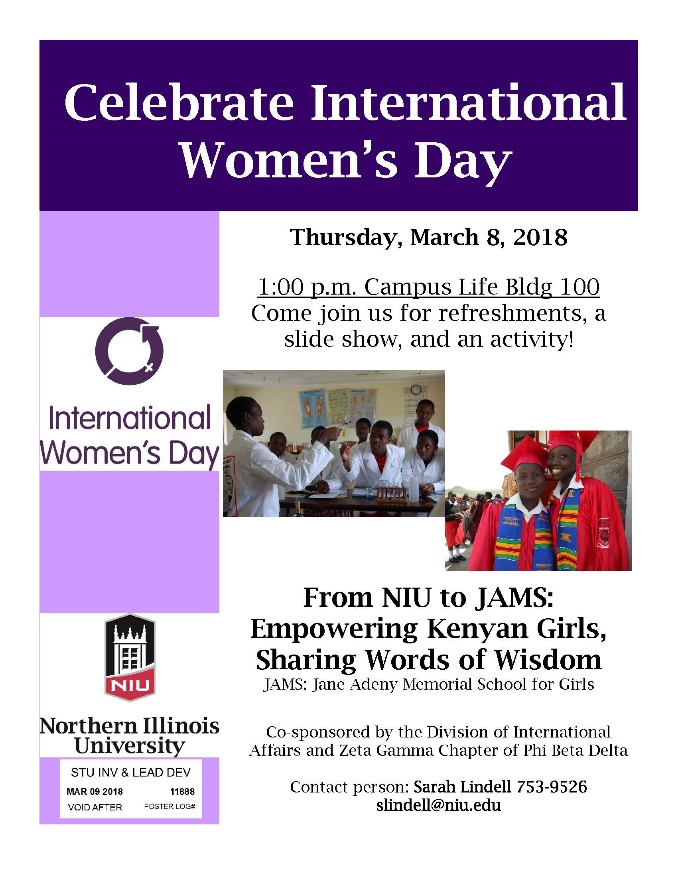 Theta Theta Chapter

California State University at Bakersfield
Banquet and 2018 Nominees
Banquet
The Phi Beta Delta (PBD) banquet will be held on March 14 at 6 pm. (Note the change of date.) Please mark your calendars! Provost Jenny Zorn, our chapter president and distinguished geographer, will give the keynote speech which (very appropriately for a PBD event) is about "The Role of the Discipline of Geography in Understanding Our World." New members will be inducted, and old members will be reacquainted and celebrated. More information later by email.
Latest Nominees for Theta Theta Chapter of PBD
We are happy to announce the latest batch of Theta Theta members who will be inducted at the banquet in March. They are the second round of inductees for our chapter. The Theta Theta chapter of Phi Beta Delta nominations committee (Dr. Isabella Kasselstrand, Dr. Lena Taub Robles, Dr. Di Wu and Dr. Clíona Murphy) met on December 13 to review nominations. All nominees were nominated by Theta Theta members. Ten Theta Theta members sent in nominations. All students have met the GPA requirements. Listed below are the approved nominees. Their names will be sent to the national headquarters, and they will receive their certificates of membership and their medallions at the banquet. Provost Zorn has generously agreed to pay their membership costs for the first year.
Congratulations to all Nominees!
Undergraduate Students
Fabiana Andrade (international student and athlete-women's volleyball from Brazil)
Grant Obenshain (studied in The Hague and Norway)
Kathryn Johnston (studied in The Hague, applying for Fulbright in Luxembourg)
Jackie Villanueva (studied in The Hague)
Hannah McKinzie (will study in China)
Bertha (Betty) Ruiz (studied in London)
Owen Van Krimpen (international student and athlete-men's swimming from Holland)
Graduate Students
Alyson Moss (four years in Japan teaching English)
Jovanni Garcia (two years studying in France)
Faculty
All faculty have international origins/connections/research partnerships
Monica Ayuso (English Department)
Carol Dell' Amico (English Department)
Steven Gamboa (Philosophy Department)
Ji Li (Accounting and Finance Department)
Jorge Moraga (Interdisciplinary Studies Department)
Maria Palaiologou (Philosophy Department)
Staff
Jonnathan De La Fuente (Global Outreach, Extended University)
Vincent Konchellah (Global Outreach, Extended University)
Chad Morris (Financial Aid, helps students studying abroad)
Leslie Williams (Provost's Office, lived abroad, supporter of, and helps plan, Theta Theta events)
Administrators
Angappa Gunasekaran (Dean of Business) Jacqueline Mimms (AVP Enrollment Management)
Evelyn Young Spath (President's Office, international garden)
Alumna
Rachel Tatro-Duarte (assistant professor at Porterville College, BA and MA in English from CSUB, studied in Florence)
Dr. Suleiman: Fulbright Scholar Report
Dr. Mahmoud Suleiman is Professor of Teacher Education in the School of Social Sciences and Education./
The Fulbright experience is a life-changing endeavor. It is an act of discovery and renewal in all aspects. For me, it is the most rewarding journey of my life, literally!
My Fulbright residency in the West Bank has enriched my personal and professional life immensely. It afforded me an opportunity to delve deeper in a unique place and culture that have broadened my conceptual awareness and enhanced my understanding of myself through the understanding of others.
I joined the vibrant An-Najah National University (ANNU), Nablus, West Bank with big dreams for creating globally competitive teacher training programs. With so many ambitious initiatives as part of the mission and vision of the university, I found ample opportunities to learn from and contribute to my newly adopted host campus. As a forum to benefit the program that seeks to integrate the best trends and practices in teacher preparation, my residency was full of interactions with col- leagues, staff, administrators, students, and community across the Palestinian Territories. Joining the elite teams of professionals was not only powerful but also empowering!
Through my participation in a series of training workshops for preservice teachers, faculty, and teacher educators at ANNU, my strong belief has been affirmed that teacher and administrator training initiatives are cast in the same mold of similarities at the universal/international levels. Most importantly, the cultural competency and global literacy in education programs have become the axiom upon which everything turns.
The multifaceted learning outcomes of the Fulbright residency are limitless. However, a noteworthy value involves promoting my sociopolitical literacy in relation to the U.S. diplomatic mission especially in this unique region. Investing in educational international exchange programs is a major undertaking by the impressive consummate professionals at the U.S. Consulate in Jerusalem. In fact, I truly felt that I became an international education ambassador and a viable intercultural broker for a much-needed peace education in the area.
Here at home, I often share some of my experiences with students and colleagues in an attempt to entice them to explore the world and harness their full potential through the optimal opportunities provided by the Fulbright program. I bring them the universal and experiential perspectives that defy perception and embrace keener understanding of their true roles as global citizens. The Fulbright grant will continue to be the anchor personal and professional activity that has a lasting impact on me.
Upcoming Field Trip
Tour of El Pueblo de Los Angeles, March 30, 2018. Phi Beta Delta member Dr. David Olson has taken the initiative to arrange a field trip for Phi Beta Delta members. He sent in the following information:
Mr. Chris Espinosa, the General Manager of El Pueblo de Los Angeles Historical Monument, has graciously agreed to pro- vide a tour and Q&A for our group on Friday, March 30 at 3:00pm. Mr. Espinosa is responsible for overseeing one of our most important cultural and historical sites in California. El Pueblo was the terminus of the Old Spanish Trail from Santa Fe to Los Angeles and marks the center of life in Los Angeles for over 240 years, and has been under the jurisdiction of three different countries. Olvera Street, The Plaza, Avila Adobe, La Placita Church, Old Plaza Firehouse, and much more is man- aged under El Pueblo. This opportunity also falls on the day before César Chavez Day and one of the most important and beautiful events in Los Angeles, The Blessing of the Animals (more information on how to sign up will follow). Contact Dr. David Olson at dolson@csub.edu for further details.
These articles are from the Theta Theta newsletter. The full newsletter can be viewed at:
https://www.csub.edu/~dwu2/ttnewsletter0218.pdf
International Education Issues
Planning the development of your research profile
Nita Temmerman - 09 February 2018 - Issue No. 492
http://www.universityworldnews.com/article.php?story=20180206134712691
The challenge to higher education internationalization
Philip G Altbach and Hans de Wit - 23 February 2018 - Issue No. 494
http://www.universityworldnews.com/article.php?story=20180220091648602
The closing of China will affect universities worldwide
Philip G Altbach and Hans de Wit - 09 March 2018 - Issue No. 496
http://www.universityworldnews.com/article.php?story=20180308085109268
Data Wise International Enrollment Strategies
Presenting today on how Senior International Officers can inform future strategies in turbulent times.
Rahul Choudaha
https://www.linkedin.com/feed/update/urn:li:activity:6372059048220729344/
Call for Journal Papers: International Research and Review
Call for Journal Papers: International Research and Review
http://phibetadelta.org/International Research and Review.php
Scholars and researchers from across disciplines are invited to address issues in international education and studies. The editors welcome papers on topics that can include, but are not limited to, our understanding of international studies, education, internationalization, globalization, teaching and learning in the context of international educational exchange and, within the university classroom, issues regarding curricular development, and other related topics. We welcome critical, qualitative, quantitative, and social scientific perspectives.
For more information and guidelines visit:
http://phibetadelta.org/International Research and Review.php
To express your interest, send an email to Dr. Michael Smithee at: ms@smitheeassociates.com
PHI BETA DELTA
BOARD OF DIRECTORS
2017-2018
Please welcome our new Board members. * indicates new to this position.
President (2017-2018)
Christina Sanchez, PhD, (University of North Carolina, Charlotte)

Past-President (2017-2018)
Rajrani Kalra, PhD, (California State University, San Bernardino)

*President-Elect (2017-2018)
Norma George, PhD, (Cheyney University of Pennsylvania)

Sr International Vice President (2015-2018)
Angelika Kraemer, PhD, (Michigan State University, East Lansing)

Historian/Archivist (2016-2019)
India D'Avignon, Professor, (California Polytechnic State University, San Luis Obispo)

Director of Publications (2015-2018)
Michael Smithee, EdD, (Syracuse University, Ret.)

*Director of Membership (2017-2018)
Nyakundi Michieka, PhD, (California State University, Bakersfield)

Director of Development (2017-2018)
Astrid Sheil, PhD, (California State University, San Bernardino)

Director of Awards (2016-2019)
Guillermo de Los Reyes, PhD,s (University of Houston)

Regional Vice President, Northeast Region (2017-2020)
(Vacant)

Regional Vice President, Southeast Region (2016-2019)
Ann Legreid, PhD, (Shepherd University)

Regional Vice President, Midwest Region (2016-2019)
Dana Vizdal, Ms. (Western Illinois University)

Regional Vice President, Southwest Region (2015-2018)
Anita Gaines, Ms. (University of Houston)

*Regional Vice President, West Region (2017-2020)
Dipasri Ghosh, PhD, (California State University, Fullerton)
Ex Officio:
*Executive Director & CEO
Amy Leh, PhD, (California State University, San Bernardino)
Regent
Yvonne Captain, PhD, (George Washington University)
Co-Regent
Rueyling Chuang, PhD, (California State University, San Bernardino)