Our Goals
To recognize the scholarly achievement of international students and scholars, who have studied abroad and faculty and staff who are involved in international activities.
To serve as a vehicle for the development of academic-based international programming.
To provide a network on each campus of faculty, staff, and students involved in international endeavors.
To extend this network to thousands of members in chapters throughout the world.
Meaning
Phi (philomatheia) - love of knowledge
Beta (biotremmonia) - valuing of human life
Delta (diapheren) - achieving excellence
Colors
The colors chosen for the honor society were red and gold. Red symbolizes the strength and diversity of humankind and gold is a symbol for the sun from which all people and cultures draw strength and life
Crest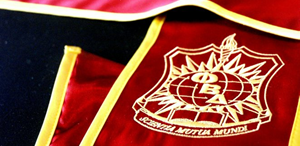 The Crest of the Society was designed with a globe, a torch, the sun, a book, and a shield.
The globe represents the international perspective of the Society's members. The torch symbolizes the leadership and influence of the Society. The sun stands for the energy from which all cultures draw strength. The book symbolizes the coining and sharing of knowledge. The shield represents the preservation of academic freedom.
The Society's motto -- "Scientia Mutua Mundi "(World's Shared Knowledge) -- is inscribed at the base of the crest.
Please click on the following link to view or download the Phi Beta Delta crest in different versions of gold, black or red.
PHI BETA DELTA CREST