Posted on Oct 4, 2017 by Elaina Loveland Posted in News, Research, under North America. Tagged with higher education, IIE, international students, Research, Study abroad, US, USA. Bookmark the permalink.
There is now even more evidence that study abroad has a beneficial impact on employability after graduation, according to a report by IIE, with 11 out of 15 "21st century workplace skills" gained through an experience overseas.
Students who are mobile for part of their degree gain employability skills, according to IIE research. Photo: Flickr/roanokecollege
About Elaina Loveland
Elaina Loveland is US-based writer and editor. She has covered international education since 2005 and is the author of Creative Colleges: Finding the Best Programs for Aspiring Actors, Artists, Designers, Dancers, Musicians, Writers, and More.
---
"One big outcome of the research is that short-term programs help to develop teamwork skills more effectively"
Gaining an Employment Edge: The Impact of Study Abroad on 21st Century Skills & Career Prospects, released at the IIE Summit on Generation Study Abroad in Washington, DC found that studying abroad has an overall positive impact on the development of a wide range of job skills, expands career possibilities, and has a long-term impact on career progression and promotion.
The study was based upon a survey of more than 4,500 individuals who participated in short-term mobility since the 1999-2000 academic year. Among the participants, 30 individuals were selected for more in-depth interviews, which also contributed to the report.
More than half of survey respondents believe that study abroad helped them get a job, and longer-term study abroad experiences had a higher impact on subsequent job offers.
For those who were unsure whether study abroad helped them in employment, they still believed that study abroad was useful to their careers, particularly as they were promoted to management-level positions where communication, interpersonal skills, and the ability to understand and work with difference were key criteria for promotion.
---
"Knowing how to be sensitive to other cultures, and to learn from others, is essential"
IIE identified 15 soft and hard skills rated as most desired by 21stcentury employers. The top five skills, with more than 70% of respondents saying their study abroad experience contributed to a significant degree of improvement, were intercultural skills, curiosity, flexibility/adaptability, confidence, and self-awareness.
In addition, more than 50% noted significant gains in interpersonal and problem-solving skills. To a lesser degree, teamwork, leadership and work ethic were skills that were also reportedly improved through study abroad.
STEM graduates gained significant soft skills outside of their subject during study abroad, and it had a positive effect on their career. Among science majors that went on a program outside of the sciences, 47% reported their study abroad contributed to a job offer, whereas among those who went on a science focused experience, only 28% reported it did so.
Additionally, the survey investigated which features of study abroad contribute most to career success to help educators to design programs mostly likely to provide alumni with skills relevant to employers.
According to Christine Farrugia, deputy head of research at IIE, the aim of the paper was to discover practical takeaways for higher education institutions, and for study abroad programs, to help them understand what aspects of study abroad contribute to positive employment outcomes.
"One big outcome of the research is that short-term programs help to develop teamwork skills more effectively, or more highly than longer-term programs, so you know there's just differences in how programs are designed and structured that lead to different kinds of employment outcomes," says Farrugia.
"What we hope that the takeaway is for the field, is that integrating career-oriented learning outcomes from the beginning is really key to helping those students gain positive skills for their careers down the line."
Employers agree that study abroad can have a positive effect on skills needed for today's global workforce.
Transferable skills such as "adaptability, emotional intelligence, the ability to listen, and language skills gained through study abroad" are integral to the future of the global workforce, according to Gina Tesla, vice president, IBM Corporate Citizenship, who spoke on a panel at the IIE Summit.
"These days, all employees are brand ambassadors. Whatever they say and do is amplified as if they have a global microphone," says Tesla. "Knowing how to be sensitive to other cultures, and to learn from others, is essential. They need to be savvy enough to articulate the values of our company to others." The full report can be downloaded at www.iie.org/employability
Republished with permission of The PIENEWS
https://thepienews.com/news/study-abroad-impacts-career-skills-iie/?platform=hootsuite
INTERNATIONAL EDUCATION WEEK
In spite of the Department of State bumping down the IEW a couple of levels in their website, it appears live and ready for higher education and other institutions worldwide to celebrate. You can still find an announcement without a logo at https://eca.state.gov/ programs-and-initiatives/initiatives/international-education-week
The dates for International Education Week 2017 are November 13-17, 2017. So, with that in mind, please take a quick moment to think about these items. Then let us know how you came out. Send your News to me by November 30, at ms@smitheeassociates.com.
Any issues, commentary, blogs, reports, or ideas about international education, internationalization, or globalization.
Send Chapter News that might include but not be limited to:

Inductions you have had since your last submission to the Medallion
Plans for your chapter this academic year
Plans for International Education Week
Changes in your chapter
Internationalization efforts at your institution
Community activities
Information that would be valuable to student members of PBD
Information that would be valuable to faculty and staff members of PBD
Include PHOTOS that I can print in the Medallion
PROMOTING PHI BETA DELTA
Participants in the Chapter Management Workshop during the 2017 Phi Beta Delta Conference shared great ideas for ways their chapters have recruited new members. The ideas included:
Phi Beta Delta Student Panel
Students can share about their studies, their success stories in networking, and their career goals. Venues could take place during International Education Week and at other times when international activities are emphasized on campus.
Study Abroad Panel
This event gives study abroad returnees the opportunity to share about their experiences with their peers as well as faculty and staff.
International Student Listserv
This event gives study abroad returnees the opportunity to share about their experiences with their peers as well as faculty and staff.
Chapter Activity Ideas
Lectures/Presentations

Induction Ceremonies

No Host Dinners

Banquets

Night of Food Events

International Student Panels

Symposiums for Graduating Seniors

Global Perspective Series

Brown Bag Events

Scholars Receptions

Videos Shown on Chapter Websites

Meet the World Events


CHAPTER NEWS
Beta Chapter

California State University, Fullerton
The Beta Chapter inducted 35 inductees for its Spring 2017 Induction ceremony (34 undergraduates, 1 graduate). The induction had an interesting accompanying program, featuring a panel of international and domestic student speakers on international themes, such as "Teaching in Turkey," "Teaching in China," "Study Abroad," and more.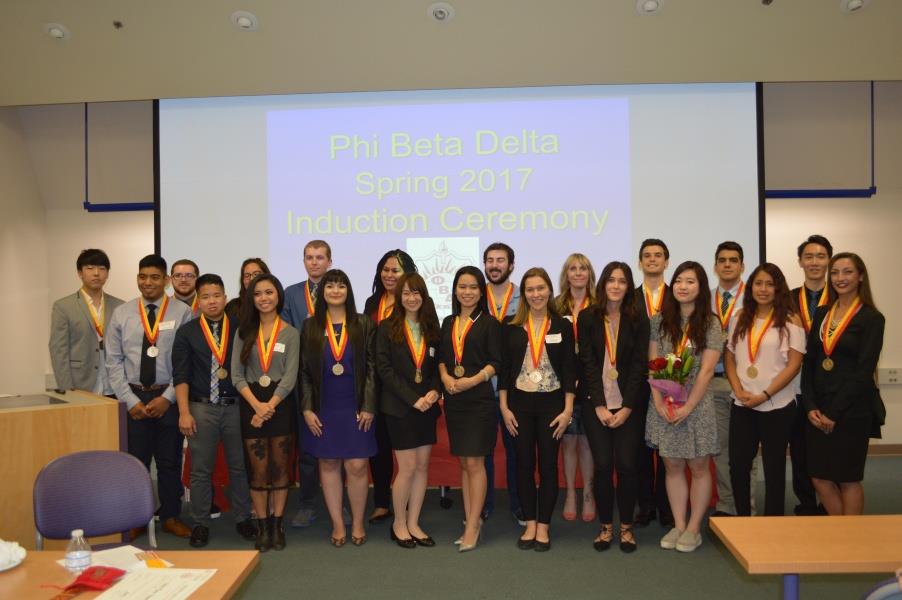 Photo of Spring 2017 Induction Ceremony.
Student Jun Li was awarded the Beta Chapter International Student award for 2017. No Domestic Student award was given this year.
The Beta Chapter changed its website to an independently-run Wordpress website, viewable at: https://csufphibetadelta.wordpress.com/
Events our chapter has hosted or collaborated on:
Feb 1-2: Discoverfest Dessert Table- This is our chapter's twice-per-year outreach event, where we feature a booth during the campus' club-fest. In addition to promoting our society, we also provide international desserts, making our booth a very popular draw.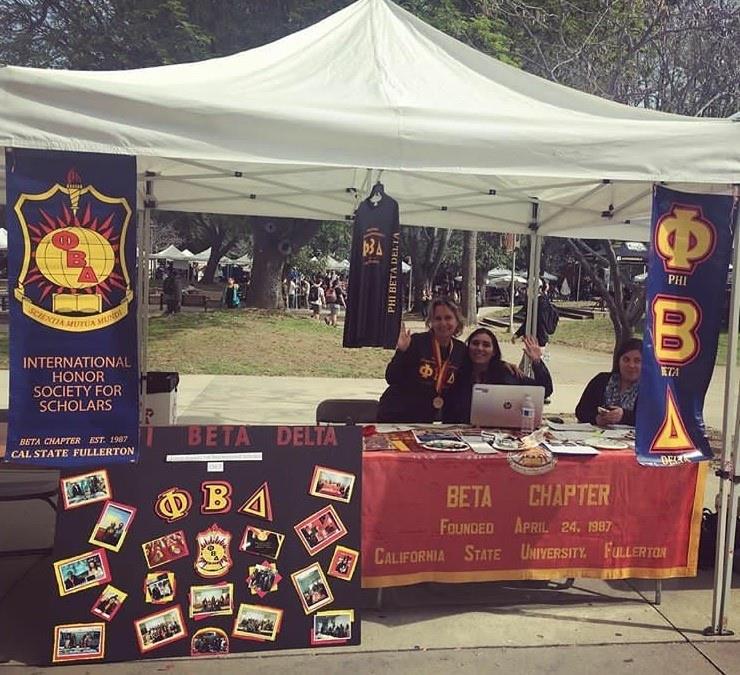 Feb 13: Meet & Eat Lunch- This is our twice-per-year social event, attracting some 40 students, both current and prospective members. Other student organizations such as SQE (Students for Quality Education) and the TESOL Club had representatives at the event as well. Several PBD faculty members attended, including former international president Dr. Richard Deming. We had culinary offerings from China, Vietnam, Mexico, Japan, and Iran, among others.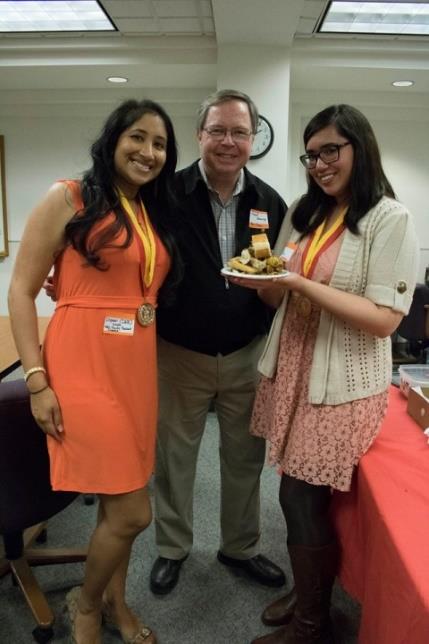 Mar 8: International Women's Day event- PBD participated at this event, with members representing the society. PBD Chapter Vice President Michelle Luster spoke and sang at the event, and was mentioned in a Daily Titan (CSUF's student newspaper) article about the event.
Apr 20: Spring Induction.
Aug 30-31: Discoverfest Dessert Table- This was the second round of our outreach event. We collected over 30 names of prospective new members. Our table featured desserts from Korea, Japan, Denmark, Mexico, and China. During the event, we were able to network with other student organizations to talk about future collaborations such as info sessions on campus resources, social gatherings, and movie nights.
Mu Chapter

University of North Carolina, Charlotte
The Phi Beta Delta Mu Chapter at the University of North Carolina, Charlotte held its first "Global Perspective Series" featuring Phi Beta Delta member, Dr. Scott Fitzgerald, who gave a presentation on the following topic: Service Learning and Community Partnerships in Short-term Study Abroad Programs: Lessons Learned.
All who attended were impressed with what Dr. Fitzgerald has been able to accomplish on his programs.
Alpha Eta Chapter

Texas A&M University

Phi Beta Delta Honor Society for International Scholars Alpha Eta Chapter at Texas A&M University
Author: Mr. Yashwant Prakash Vyas
Position: Chartering President - Alpha Eta Chapter
Email: yashwant.vyas5@gmail.com
Texas A&M University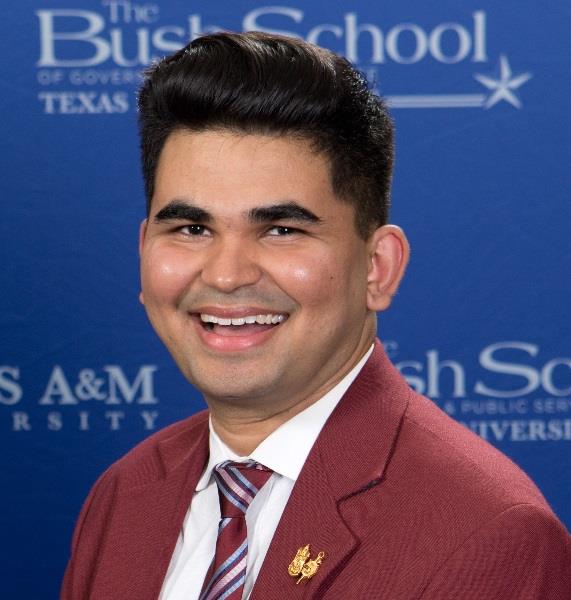 In fall 2016, Mr. Yashwant Prakash Vyas, re-chartered the Alpha Eta Chapter at Texas A&M University. Dr. Krista L. May served as the chapter coordinator and advisor, Mr. Rajarshi Bhattacharyya served as the vice president, and Mr. Mohammad Sadegh Modarresi served as the treasurer on the chartering governing board of the chapter. After a semester long registration and recognition process with Texas A&M University, the Alpha Eta Chapter became active in spring 2017. They held an induction ceremony on May 3, 2017. Two honorary members and seventeen new members were initiated into the society at this ceremony.
Mr. Yashwant Prakash Vyas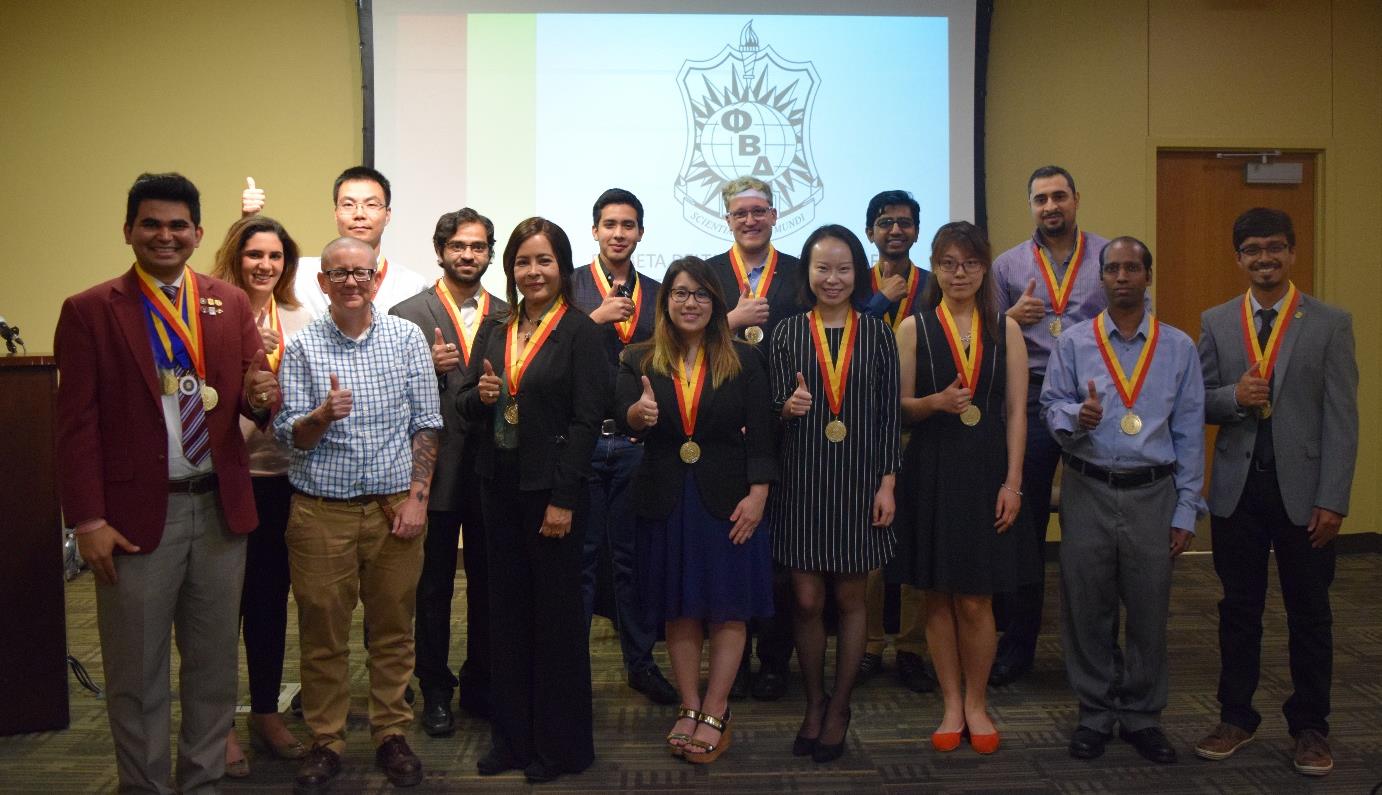 Alpha Eta Chapter Spring 2017 Initiation Ceremony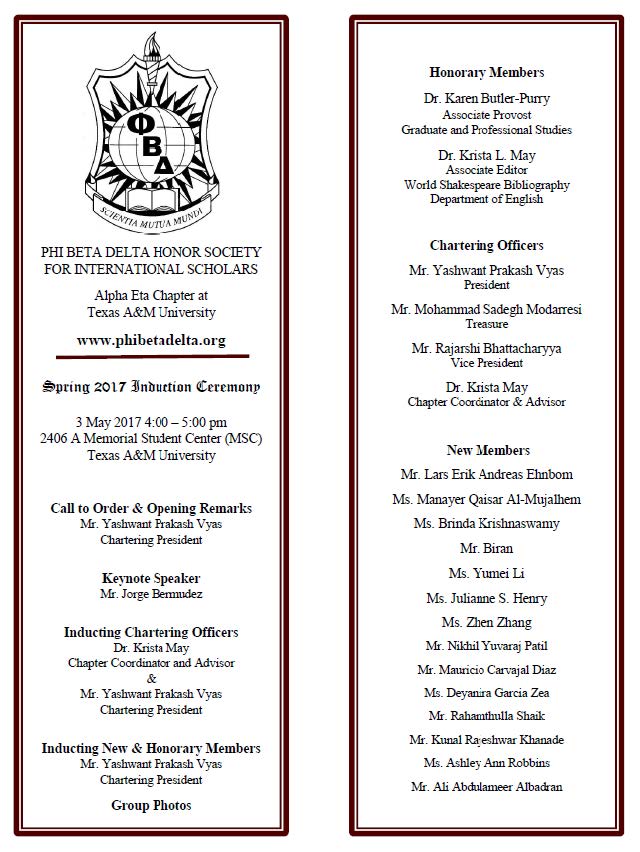 Spring 2017 Initiation Ceremony Program
Keynote Speaker and Spring 2017 Lecture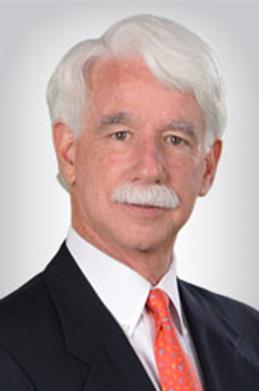 Mr. Jorge A. Bermudez
Mr. Jorge A. Bermudez was the keynote speaker for the spring 2017 Initiation Ceremony and lecture. Mr. Bermudez is the president and CEO of the Byebrook Group, a small firm dedicated to research and advisory work in the financial services industry. Mr. Bermudez is the former chief risk officer of Citibank/Citigroup.
Mr. Bermudez began his career with Citibank in 1975 and held various positions including the following: 2000 CEO e-Business developing Citibank's Corporate Banking Internet initiative; 2002 CEO Citigroup Latin America; 2004 Senior Advisor International; 2006 president and CEO Citigroup Commercial Business Group North America and Citibank Texas; 2007-2008 Chief Risk Officer Citigroup.
Mr. Bermudez is a director/trustee on the following boards: The Federal Reserve Bank 11th District (Dallas, TX) Chair Audit Committee; The Moody's Corporation (NY); The Texas A&M Foundation Board (TX) Chair Audit Committee; The Community Foundation of the Brazos Valley (TX) Chair Investment Committee; The Smart Grid Center Board (TX) Chair. He has also served the following boards: The Electric Reliability Council of Texas 2010-2016 (TX); American Institute of Architects 2015 (Washington); Citibank, NA and Citicorp USA 2005-2008 (NY); Council of the Americas 2003-2009 (NY); Mastercard International, LAC 2002-2004; New York Clearing House Steering Committee 2001-2002 Chair; Siembra Group 1993-1997 (Argentina); Asociacion de Bancos Argentinos 1994-1996 (Argentina); FEMSA Group 1988-1993 (Mexico).
Mr. Bermudez serves Texas A&M University on the International Board; Development Council of the College of Agriculture; Mays Business School Dean's Advisory Board; past chair of board of The Association of Former Students. He is also a recipient of: Texas A&M University's Distinguished Alumnus Award 2017; Outstanding International Alumnus Award 2016; College of Agriculture and Life Sciences Outstanding Alumnus Award 2009; Tyrus R. Timm Honor Registry 2006.
He holds graduate and undergraduate degrees from Texas A&M University.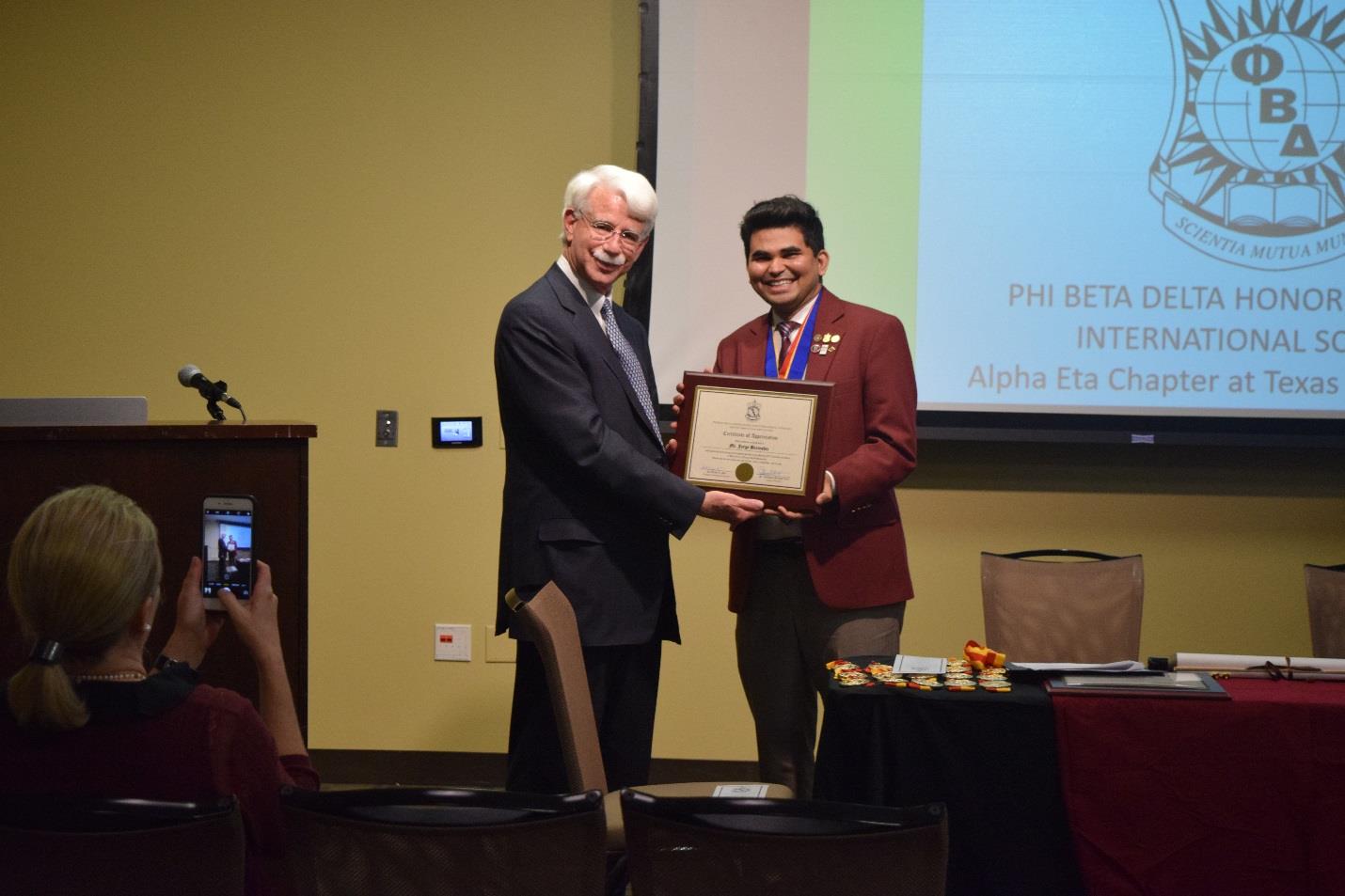 Mr. Jorge A. Bermudez being recognized as the keynote speaker by Mr. Yashwant Prakash Vyas
Mr. Jorge A. Bermudez delivery his keynote address
Honorary Members
Dr. Krista L. May
Dr. Krista L. May was awarded the honorary membership in recognition of her efforts in improving the experience of international students, staff, and faculty members at Texas A&M University.
Dr. Krista L. May is Associate Editor of the World Shakespeare Bibliography Online, which is housed in the Department of English at Texas A&M University. The World Shakespeare Bibliography Online is a project of the Folger Shakespeare Library in Washington, DC, and the Department of English at Texas A&M that provides annotated entries for books, articles, book reviews, dissertations, theatrical productions, reviews of productions, audiovisual materials, electronic media, and other scholarly and popular materials related to Shakespeare and published or produced between 1960 and 2016. The scope is international, with coverage extending to more than 120 languages. Dr. May serves as advisor to several recognized student organizations at Texas A&M, including LGBTQ Aggies, Transcend, Golden Key International Honour Society, and Phi Beta Delta Honor Society for International Scholars.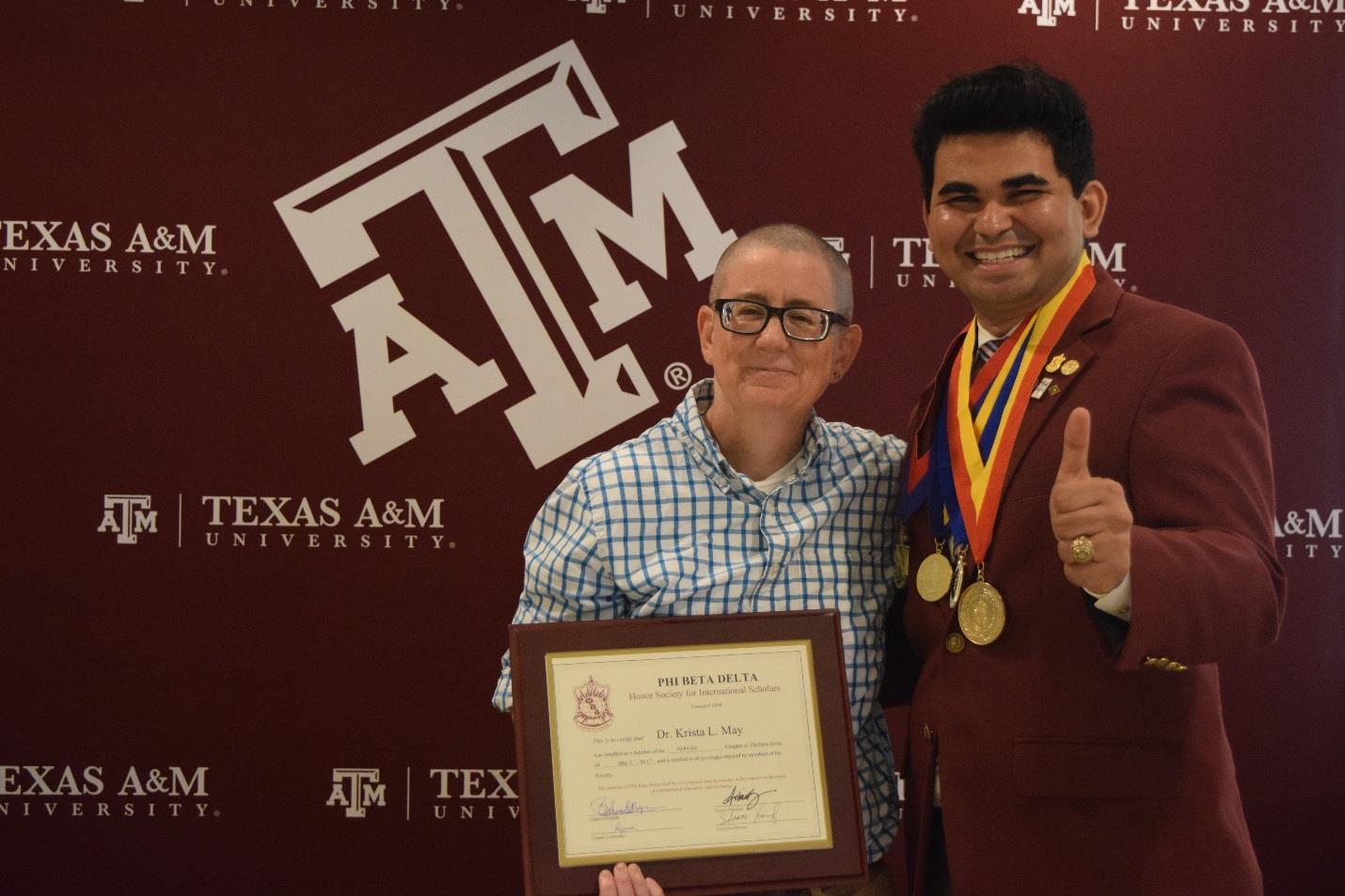 Dr. Krista L. May being awarded the Honorary Membership by Mr. Yashwant Prakash Vyas
Dr. Karen Butler-Purry
Dr. Karen Butler-Purry was awarded the honorary membership in recognition of her efforts in improving the experience of international students, staff, and faculty members, and in recognition for her support towards the international educational interchange at Texas A&M University.
Dr. Karen Butler-Purry is the Associate Provost for Graduate and Professional Studies as well as a Professor in the Department of Electrical and Computer Engineering at Texas A&M University, College Station, Texas. She was one of the principal investigators on the NSF-funded E3 RET grant. Her research interests include computer and intelligent systems applications to power distribution systems and engineering education. She developed a successful research program securing over $4,000,000 in research funding as a principal investigator, and supervised and funded over 40 graduate and 65 undergraduate research students. Also she secured over $10,000,000 in fellowship or education program funding and directed several of these programs that target recruitment, retention and advancement of pre-college, college, and graduate students in STEM fields. She was Assistant Dean for Graduate Programs in the College of Engineering from 2001-2004 and Associate Department Head in the Electrical and Computer Engineering Department from 2008-2010. In addition, she has served in many capacities on committees for the college, university, and professional societies. She has received numerous awards in including the 2005 American Association for the Advancement of Science (AAAS) Mentor Award for efforts to mentor students from underrepresented groups and for leadership in promoting PhD careers for them in electrical engineering and computer sciences.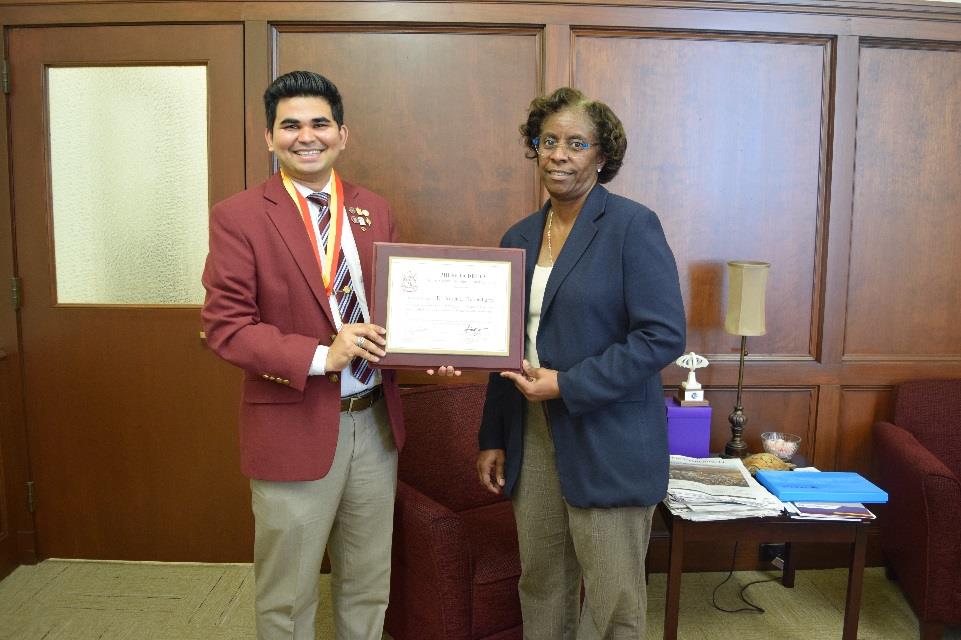 Dr. Karen Butler-Purry being awarded the Honorary Membership by Mr. Yashwant Prakash Vyas
The Alpha Eta chapter will hold their fall 2017 Initiation Ceremony and fall lecture on November 9, 2017. Twelve new members will be initiated into the society.
Alpha Eta Chapter Officers 2017-2018
Mr. Yashwant Prakash Vyas
Chartering President

Mr. Mohammad Sadegh Modarresi
Treasurer

Mr. Rajarshi Bhattacharyya
Vice President

Dr. Krista May
Chapter Coordinator & Advisor

Mr. Jordan Threadgill
Study Abroad Office Representative
Delta Iota Chapter

University of Houston
Delta Iota Chapter Board Activities
The Board of the Delta Iota Chapter met on July 24, 2017 for a visioning meeting to review our activities, determine our strengths, weaknesses, and to establish goals for the coming year. Our final recommendations are to focus on these five goals:
Provide activities for students participating in the University of Houston Global Citizens Credential
Partner with other international organizations to co-sponsor events on our campus
Recognize faculty led programs
Ensure enhancement of our currently scheduled events
Increase scholarship fund
Spring 2017 Induction Ceremony and Reception
Our chapter hosted an exciting induction ceremony and reception on April 20. The two recipients of the Delta Iota Scholarship, Olaoluwa Alalade, a graduate student from Nigeria majoring in Subsea Engineering, and Kalliopi Podia, an undergraduate student from Greece majoring in Nutrition were recognized. Ten faculty and staff, and 37 students were inducted as new members. In addition, two honorary members were inducted: The Honorable Paula M. Mendoza, University of Houston System Board of Regents and President & Chief Executive Officer, Possible Missions, Inc., and the Honorable Dr. Anupam Ray, Consul General of India, Houston. They shared messages about their life experiences which were extremely inspiring and motivating.

Delta Iota Scholarship Program
Applications are available through November 1 in which up to four recipients will be selected each to receive a $500 Delta Iota Scholarship. Eligible applicants must demonstrate active involvement in international educational activities. Undergraduate applicants and students in professional colleges (Law, Optometry and Pharmacy) must have and maintain at least a cumulative 3.25 GPA. Graduate applicants must have and maintain at least a cumulative 3.5 GPA. Scholarship recipients will be awarded membership in Phi Beta Delta, or will be awarded membership renewal if currently a member.
International Scholars Reception
During International Education Week the Delta Iota Chapter will host the International Scholars Reception on Thursday, November 16. This event recognizes our J-1 exchange visitors, Fulbright students and scholars, and Reciprocal Educational Exchange Students. Several from this group will be selected to share information about their countries, cultures, and the research or studies in which they are engaged here at the University of Houston.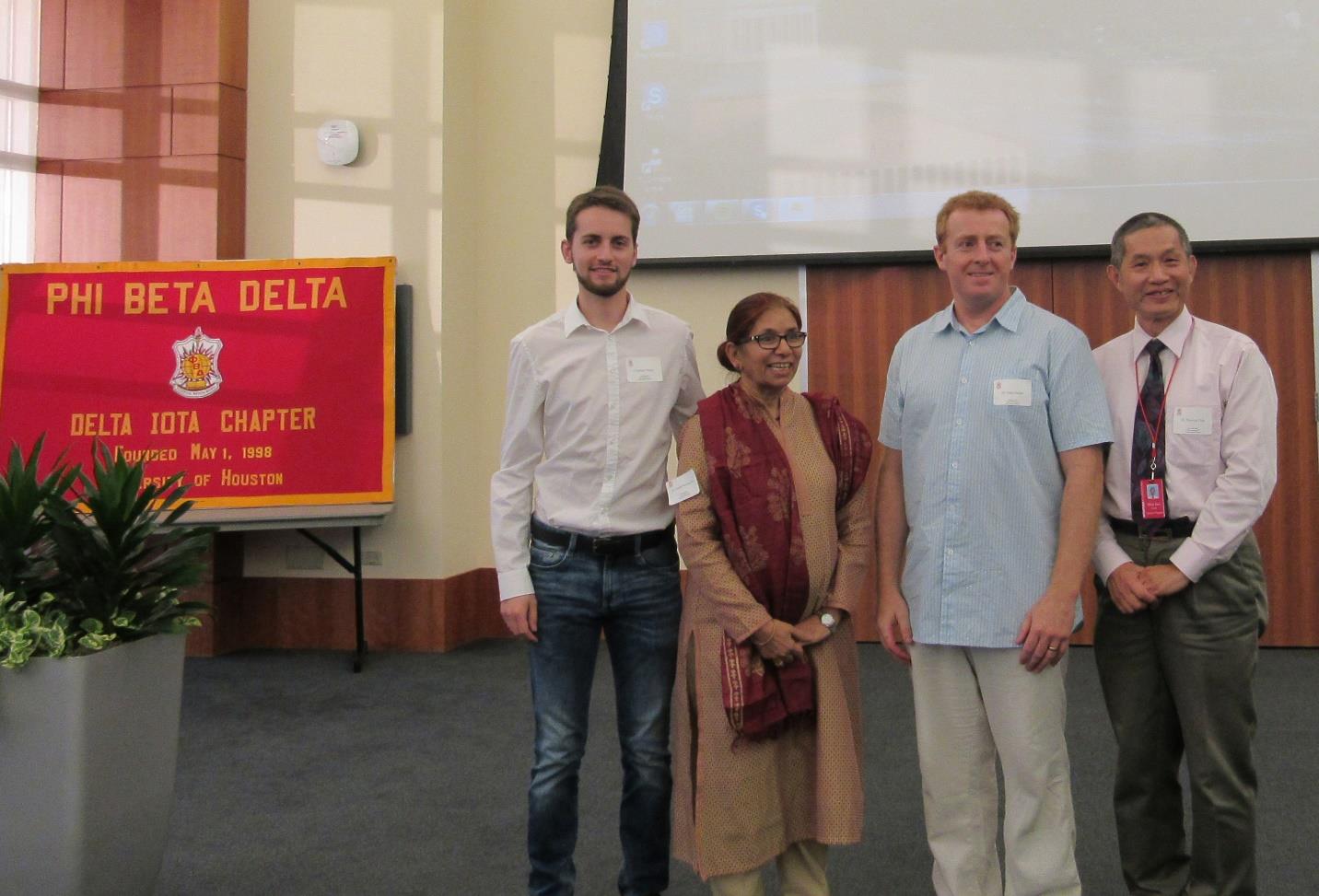 Pictured at the 2016 International Scholars Reception, left to right: Christian Winter, Reciprocal Educational Exchange Student in the C.T. Bauer College of Business from Leipzig University; Dr. Saleha Khumawala, Immediate Past President, Delta Iota Chapter; Dr. Tudur Hallam, Professor Welsh, Swansea University and Visiting Fulbright Professor, and Dr. Wen Hai Chih, Research Scholar, Global Strategies and Studies, Professor, National Dong Hwa University, Taiwan.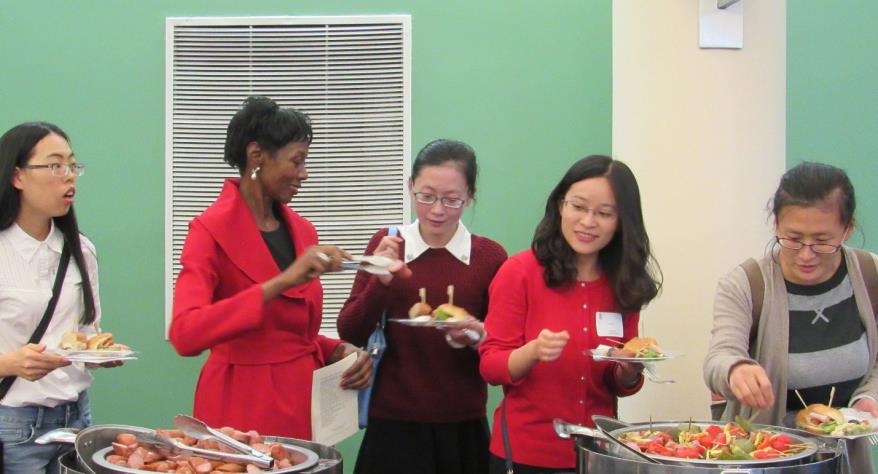 Ida Thompson, Director of Program on the Delta Iota Chapter Board welcomes guests at the buffet of international cuisine provided at the reception.
Eta Lambda Chapter

College of Staten Island, The City University of New York
Flyer regarding an upcoming event during their annual induction ceremony.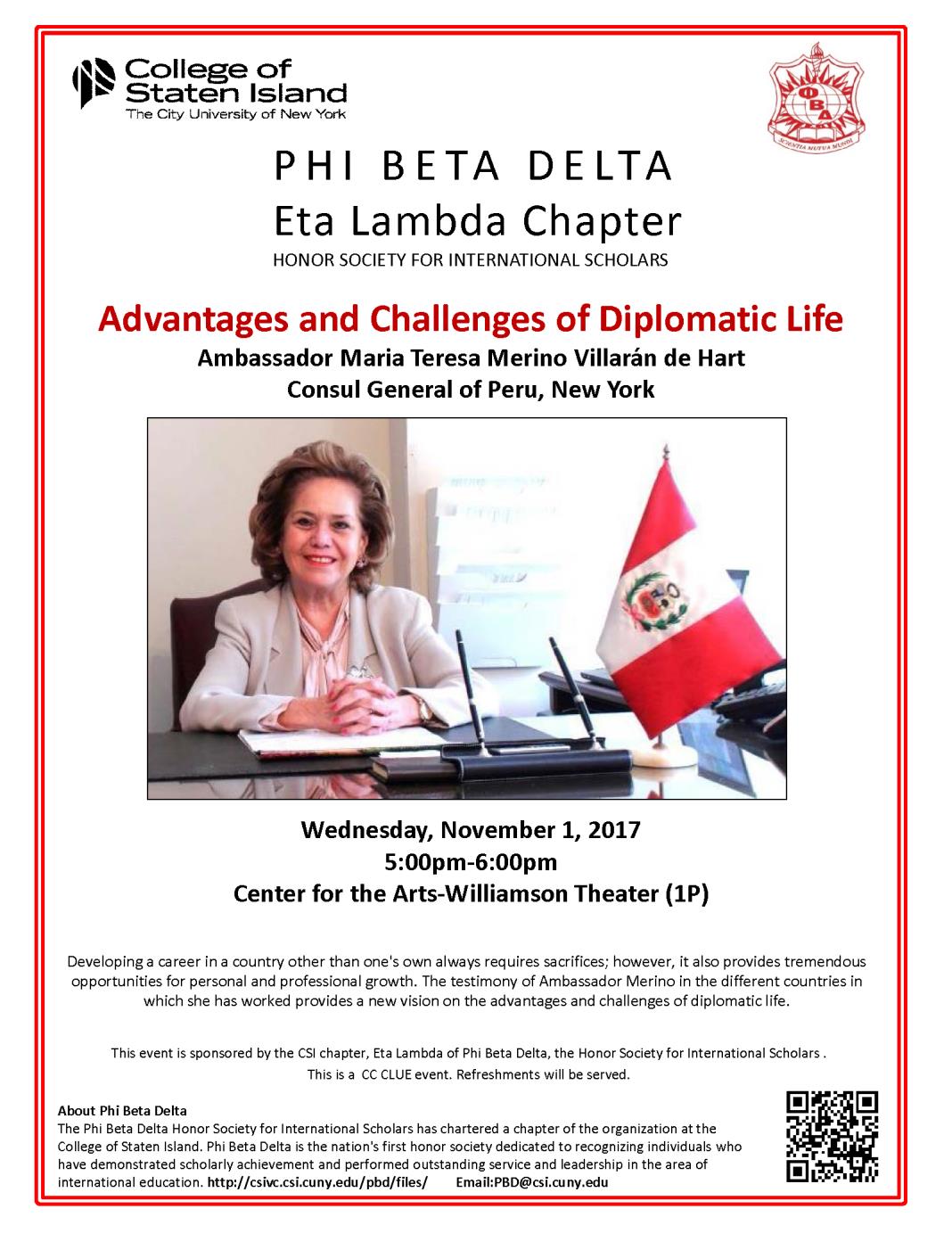 Theta Epsilon Chapter

Shepherd University
The Theta Epsilon Chapter of Phi Beta Delta, the honor society for international scholars, inducted 19 students, faculty, and staff during a ceremony on April 4, 2017. Students inducted were Amelia Carte, Madeline Dillow, Rebekah Hunter, Daniel Nicholls, Daniela Powers, Brianna Smith, Kayla Turner, and William Wheatley. Staff and faculty inductees included Yin Star, Dr. Keith Alexander, Dr. Elvira Allison, Dr. Eva Maria Budenbender, Amy Garzon Hampton, Dr. Virginia Hicks, Dr. Chiquita Howard-Bostic, Dr. Lois Jarman, Dr. Weidong Liao, Dr. Joseph Robbins, and Dr. Georgiann Toole.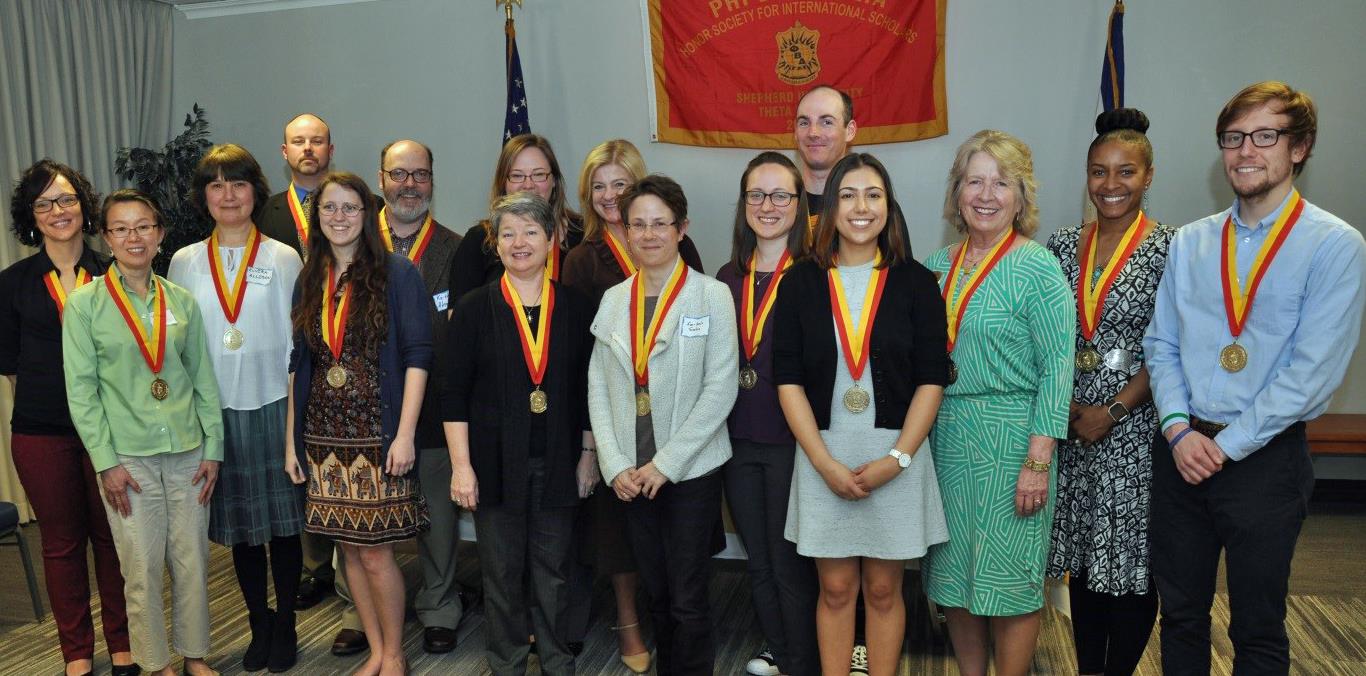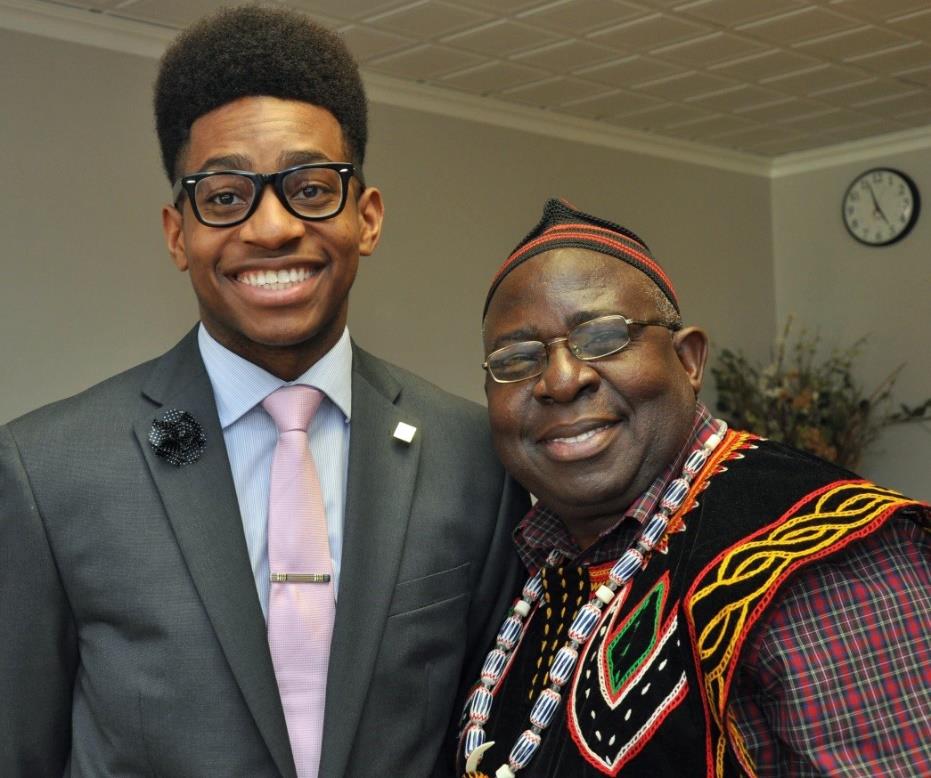 The keynote address was given by Herbert Boh, father of Phi Beta Delta-Theta Epsilon vice president Roosevelt Boh, and a journalist who is originally from Cameroon. The title of his talk was "Global Studies and International Development."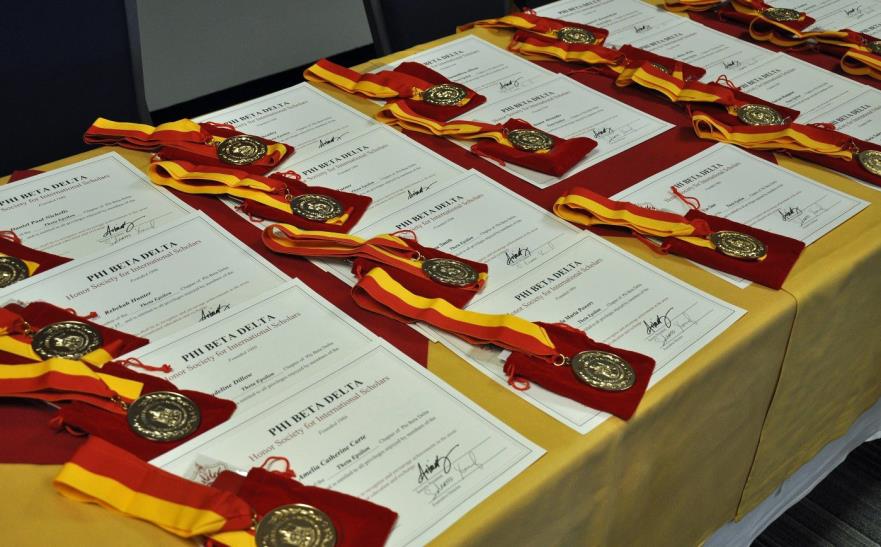 Photos by Cecelia Mason
More photos of the induction ceremony can be found at this link:
https://www.flickr.com/photos/shepherdu/albums/72157682245612535
Theta Theta Chapter

California State University, Bakersfield
A report of events from the Theta Theta Chapter of California State University, Bakersfield.
September Social
Our kick off social in September was a great success with excellent conversation, chat and food. Between members and their guests, about 25 people attended. It was held in the home of Theta Theta member Clíona Murphy.
On October 8, two of our most active members Rosemary Stribling and Luiza Martins, hosted an International Appreciation lunch for international students before a soccer game on campus. Students attended from Norway, Germany, Holland and France and they chatted with Rosemary, Luiza, and faculty Theta Theta members, Jackie Kegley and Cliona Murphy. We had a sports quiz which the students won with ease! By the way, Rosemary and Luiza also held an orientation for international athletes early in the semester and a number of Theta Theta members attended and spoke.
International Education Week is November 13-17
Theta Theta members Emily Poole, Mark Novak, Di Wu, Jackie Kegley, Rosemary Stribling, Luiza Martins, and Sonia Silva have been working with various offices on campus planning the week's events.
Some of the events include the following:
Monday, November 13 Stockdale Room, 1:30pm.
Theta Theta member Dr. Jackie Kegley will host the discussion. Thirteen students who have studied in eight different countries will share their experiences and Mediterranean food will be served.
International Reception and Parade.
Tuesday, November 14 Basketball Game 6 pm.
Theta Theta members will meet international students at a reception before game. At half-time, there will be a parade of international, faculty, staff and students.
Food Around the World
Wednesday, November 15 Stockdale Room, 8 pm.
The campus will host an international food night. International students will be sharing food from their countries. A number of Theta Theta members, including Emily Poole from campus programing, are involved with others in the planning of this event.
Fulbright Talk.
Thursday, November 16, Stockdale Room 12pm.
Theta Theta member Dr. Mahmoud Suleiman will talk about his Fulbright in Palestine last year. Individuals who missed our spring induction will be recognized and invited to pick up their medals.
We are a new chapter and are slowly but surely building up a sense of community among our members. We were inspired to start our chapter by Provost Jenny Zorn (who is now our chapter's president). We are looking forward to further events in the spring and to expanding our membership. Warm wishes to everyone in PBD!
PBD PUBLICATIONS
Call for Journal Papers: International Research and Review
http://phibetadelta.org/International Research and Review.php
Scholars and researchers from across disciplines are invited to address issues in international education and studies. The editors welcome papers on topics that can include, but are not limited to, our understanding of international studies, education, internationalization, globalization, teaching and learning in the context of international educational exchange and, within the university classroom, issues regarding curricular development, and other related topics. We welcome critical, qualitative, quantitative, and social scientific perspectives. For more information and guidelines visit: http://phibetadelta.org/International Research and Review.php
To express your interest, send an email to Dr. Michael Smithee at: ms@smitheeassociates.com
KNOW THE BOARD
Photos of the Phi Beta Delta Board have been loaded onto the Phi Beta Delta website. See them here: http://phibetadelta.org/pbdboard.php
PHI BETA DELTA
BOARD OF DIRECTORS
2017-2018
Please welcome our new Board members. * indicates new to this position.
President (2017-2018)
Christina Sanchez, PhD, (University of North Carolina, Charlotte)

Past-President (2017-2018)
Rajrani Kalra, PhD, (California State University, San Bernardino)

*President-Elect (2017-2018)
Norma George, PhD, (Cheyney University of Pennsylvania)

Sr International Vice President (2015-2018)
Angelika Kraemer, PhD, (Michigan State University, East Lansing)

Historian/Archivist (2016-2019)
India D'Avignon, Professor, (California Polytechnic State University, San Luis Obispo)

Director of Publications (2015-2018)
Michael Smithee, EdD, (Syracuse University, Ret.)

*Director of Membership (2017-2018)
Nyakundi Michieka, PhD, (California State University, Bakersfield)

Director of Development (2017-2018)
Astrid Sheil, PhD, (California State University, San Bernardino)

Director of Awards (2016-2019)
Guillermo de Los Reyes, PhD,s (University of Houston)

Regional Vice President, Northeast Region (2017-2020)
(Vacant)

Regional Vice President, Southeast Region (2016-2019)
Ann Legreid, PhD, (Shepherd University)

Regional Vice President, Midwest Region (2016-2019)
Dana Vizdal, Ms. (Western Illinois University)

Regional Vice President, Southwest Region (2015-2018)
Anita Gaines, Ms. (University of Houston)

*Regional Vice President, West Region (2017-2020)
Dipasri Ghosh, PhD, (California State University, Fullerton)
Ex Officio:
*Executive Director & CEO
Amy Leh, PhD, (California State University, San Bernardino)
Regent
Yvonne Captain, PhD, (George Washington University)
Co-Regent
Rueyling Chuang, PhD, (California State University, San Bernardino)