---
ÖÂÄ" at NAFSA 2008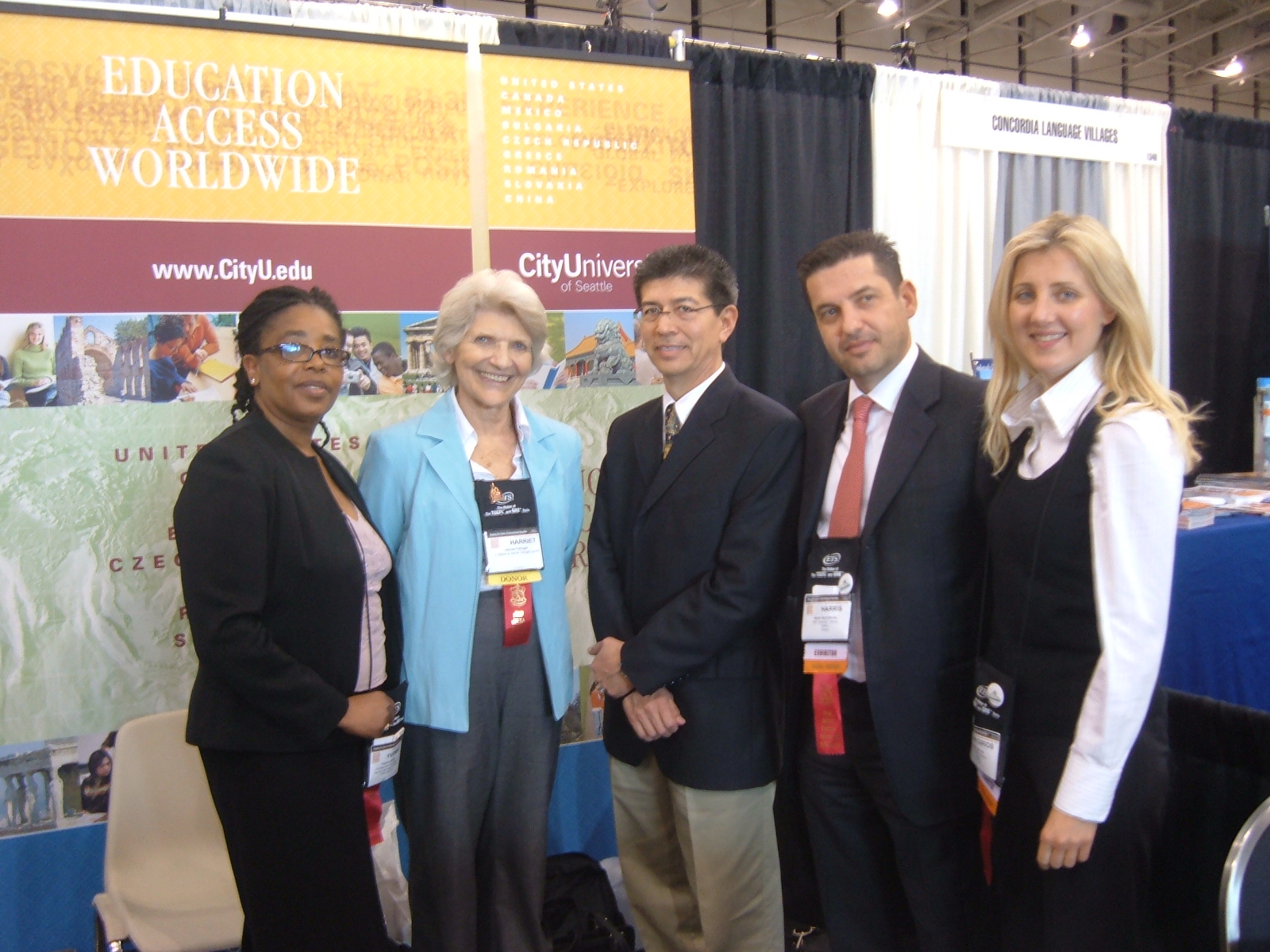 Phi Beta Delta was indeed present at the NAFSA Conference in Washington, DC.

Left to right in the photo: Dr. Yvonne Captain, Executive Director of Phi Beta Delta, Mrs. Harriet Fulbright, honorary member of Beta Eta Chapter-University of Arkansas, Dr. Le?n-Garc?a, and two fellow members of Zeta Kappa Chapter, City University of Seattle.
---
In Memoriam
Below are the names of fellow Phi Beta Deltans who have died recently.  If you know of anyone who is no longer with us, please contact headquarters:  staff@phibetadelta.org
SPRING 2011
The Omega Chapter of California State University Northridge and all of Phi Beta Delta mourns the passing of Dr. Karin Dur?n.  A loving tribute to her is viewable here:  http://library.csun.edu/karinduran 
FALL 2010

Dr. Hortense Simmons passed away on November 26, 2010. A long term member of the Omicron Chapter at California State University, Sacramento, Professor Simmons was a vibrant force at our conferences at which she often read papers. She was also instrumental in bringing to us our Zeta Omicron Chapter at Black Sea State University (formerly Petro Mohyla Mykolayiv State University) in Ukraine. We miss her dearly.
This article from 2004 Sacramento City Magazine, naming her as one of 20 women to admire, captures part of her energy and strengths: http://www.sacmag.com/media/Sacramento-Magazine/October-2004/Sacramento-Women-20-Women-We-Admire/
+++++++++++++++++++++++++++++++++++++++++++++++++++++++++++++++++++++++++++++++++++++++
The Phi Beta Delta, Zeta Xi Chapter, at SUNY Cortland is very sad to report the passing of our dear friend and colleague Ann Marshall. She lost her short, valiant battle against cancer on September 29, 2010. Ann Marshall was the Administrative Assistant at SUNY Cortland for the Clark Center for International Education and she served as the Secretary for the Cortland Phi Beta Delta Chapter. Her Phi Beta Delta colleagues and Clark Center for International Education colleagues remember her as a wonderful presence.
She was a dedicated professional and, above all, a good friend. For many years, she was a noble and loyal advocate for SUNY Cortland students whom she helped guide in their education. While Ann was especially dedicated to advancing the education of SUNY Cortland students internationally, she was also devoted to the education of students in her home town of DeRuyter, NY. Our chapter and the College, valued her presence, warmth, humor, enthusiasm, and devotion to our educational mission. Her untimely loss leaves an empty place in our hearts.

Contributions in Ann Marshall's name may be made to: 

Dollars for Scholars
 Box 209
 DeRuyter NY 13052
SUMMER 2010


The Beta Omicron Chapter of Phi Beta Delta (George Washington University) is sad to announce the passing of its faithful member, Dr. Maddalena Ferretti in May of 2010.  Dr. Ferretti was a charter member of the Beta Omicron Chapter who was the favorite host at all receptions and gatherings.  She is missed sorely. 

SPRING 2008
Dr. Blair A. Rudes, passed away on March 16, 2008.  He was a member of Mu Chapter at the University of North Carolina, Charlotte.   
Phi Beta Delta sadly announces the passing of two stalwart champions of the Society:  Dr. Elsa Ochoa-Fern?ndez and Mr. Ron Moffatt. 
---
ÖÂÄ" News
ÖÂÄ News 2005
Visiting Fulbright Scholar from Tunisia to Speak at OSU Global Briefings Series
Stillwater, OK ? August 25, 2005 ? The Oklahoma State University School of International Studies is bringing to Stillwater Dr. Abdelhamid Abed, visiting Fulbright Scholar from Tunisia, to present a Global Briefings lecture entitled, "Women's Rights in Tunisia: A Comparison with Other Arab Countries."